Microsoft Lists is designed to unlock your team's full potential by reducing the strain and drudgery of keeping everybody organized, on the same page, and moving forward together.

Designed with collaboration in mind, Lists enables teams of all sizes to efficiently track what needs to get done, share resources, and organize information of all shapes and sizes.

We're proud to announce a batch of changes coming later this year that make Lists faster and more powerful than ever before. Whether you're overseeing a 20,000-person organization and want to standardize the way projects are tracked and approved, or you're one half of a team of 2 working on narrowing down gift ideas for an upcoming baby shower, Lists has something for you.
Double the Speed, Half the Hassle
Roadmap #124867: User experience (UX) Update
Roadmap #117585: Microsoft Lists: Applied Filters
To kick things off, we'll share our favorite update: we've supercharged Lists in the browser, in the PWA, and inside Teams to load in half the time. Whether you're driving Lamborghinis or Lists, performance is the ultimate feature. So if you stop reading here, and don't change a thing about how you work with Lists, you're still going to enjoy a summer of lightning-fast views, forms, and fields. But wait, there's more! These performance updates are coupled with a bunch of optimizations to the user experience that put people, content, and essential actions front and center.
Microsoft Lists – Ready to Party
It all starts at the top of the screen, where you'll see a bunch of new goodies on the same line as the name of your list. First off, you'll see the friendly faces of people who are working with you in the List at the same time. This much-lauded feature from Lists MSA is coming to all Lists this summer! Everybody should experience the magic of sharing a list in a meeting and seeing those recipients file in and start moving around the list making updates with you. Next to these presence icons, you see icons for filtering and grouping. One of the biggest changes in this whole update lies inside that Group By button – this feature now works even when you're editing items in the grid!
Your Favorite View is Just a Click Away

The true power of Lists becomes apparent when you use custom views that slice, dice, and arrange the right information for specific audiences or scenarios. We've made these views easier to create and access by arranging them into tabs at the top of the screen. Want to create a new view? Click the plus.
Take a Filter Pill
Under the title area, you'll notice that Lists now clearly shows you which filters are applied to the current view. You can click these "filter pills" to clear them one by one or all at once to see more items. This feature even works in lists that have filters saved to the view. Have you ever opened a list and wondered why a bunch of your data was missing, only to later realize that it was because of some sneaky saved filters doing what they're supposed to do? Those days of subterfuge are over!
Focus on Forms
We've heard from many of you that creating and editing items inside a side panel doesn't make much sense; why relegate a critical, focused task to just one side of the screen? We've listened to this feedback and have elevated the core task of editing data in a list form to the prominence it deserves by placing it smack dab in the middle of the screen.
Lists: Rated E for Everyone!
We're always proud to take vintage features of Lists and bring them to the forefront. This time, it's Ratings columns! Now, it's super easy to add a Ratings column to a list – do it the same way you add any other column. The experience of specifying your rating (in the form of a star, or a thumbs up/down) is fast and fluid. Try it out!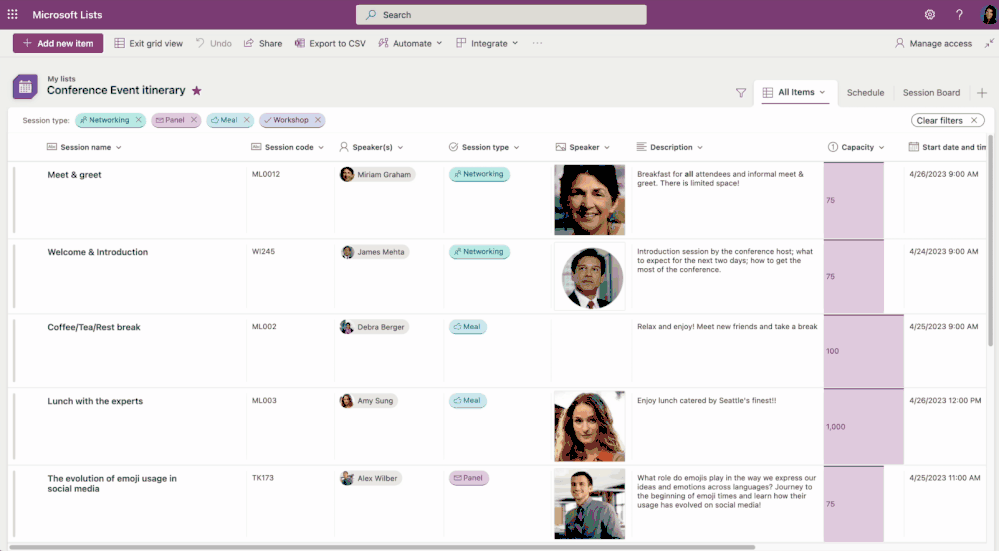 Image Fields: Now with Drag and Drop!
Have you ever been frustrated at Image columns for making you browse through your filesystem to an image saved somewhere on your computer? Now you can add images using drag and drop, or simply copy an image from the Web or your favorite application and paste it in.

There's more we haven't mentioned yet. We've worked hard in this update to bring a bunch of smaller fixes and optimizations to everyday List experiences. As just one more example – we've tweaked date and time columns to respect the region settings on your local machine. No more editing dates in the time zone and region settings defined by the configuration of the backing SharePoint site.
Calendar View Improvements
Roadmap #100504: Microsoft Lists: Calendar view – week layout
Colorful Calendars, A Week at a Time!
As humans, we often direct the most feedback and encouragement towards those we love the most. By this heuristic, Calendar view is one of our most-loved features! Earlier this year, we took your encouragement and used that to fuel our delivery of the much-requested Week layout.

Coming soon is an improvement to the conditional formatting capabilities of calendars. If you've tried to format a calendar view recently, you might have discovered the need for a clever workaround to make column data available to the formatting engine (Thanks for the post, @techan_k!) We're working on a change that will make this a whole lot easier, because we think a splash of color is a good way to brighten up any week.
Fantastic Forms
Roadmap #124865: Microsoft Lists: A new forms experience to collect information
Collect Data like Never Before with List forms!
We are making it easier to collect and gather information through a new forms experience built right inside Microsoft Lists. An event organizer, for example, can now create and manage multiple forms for the same list say one for internal users and another for external. Forms can be made relevant, professional, and beautiful easily with custom logos, names, descriptions, and user-friendly questions instead of column names. Form designers can hide fields that are not required and add new fields directly. You can build the whole schema of a list right inside the form designer!

Forms can be easily shared, and respondents can fill them out using any device. All the form responses will appear immediately in your list after they're submitted. From there, it's just like any other item in a list – and get the benefits of formatting, automations, and maybe you'll even feel compelled to add a Ratings column and rate those submissions as they come in!
Turnkey Templates
Roadmap #100502: Microsoft Lists – Approvals integration
Roadmap #70753: Microsoft Lists – Custom list templates
Roadmap #117436: Microsoft Lists – Flows packaged into custom List templates
Microsoft Lists first and foremost is about empowering normal people to create versatile and efficient databases to run their teams. Custom templates take it to the next level for organizations that want to standardize how things get done. Templates allow those organizations to provide consistent schema, views, formatting, and automations to define how things get tracked and how they move forward.
Run your Approval Processes inside Lists!
There's a lot to talk about in the world of List templates. Earlier this year, we launched Approval integration with two out of the box Lists templates: Travel Requests and Content Scheduler. Items inside Lists from one of these two templates can be submitted for approval. Those approvals can be managed using the Approvals app in Teams or directly inside the List.

Next up is organizational templates. For those of you who have configured your Microsoft 365 tenancy to receive Targeted Release features, you've had this capability for a while now. This is the core capability that allows organizations to package up a list schema, views, formatting, and rules into a template and have that template appear in the New List dialog. This feature is coming to all tenancies soon – keep an eye on the roadmap.

Later this summer, we are taking it to the next level by allowing organizations to package Microsoft Power Automate flows directly inside their custom organizational templates. Structured data and custom workflows are a magic combination that accomplish so much, from routing support tickets, driving internal planning milestones, to keeping business-critical pizza parties aligned and moving forward. Now you can package all this up into turnkey business applications that anybody can create in just a few clicks.

But that's not all! Later this year, we're proud to announce that all this power is coming to the world of document libraries as well. Keep an eye on the roadmap for future updates and timelines if you've been eager to bring the power of templates and packaging to document-centric scenarios.
Microsoft Lists – at work, at home, and on the go
Roadmap #70705: Microsoft Lists – Commenting (iOS)
For those of you using the Lists MSA preview to organize information for your personal life, your small business, or your side hustle – rest assured, the changes described in this post are coming to those lists as well.
MSA account is coming to our Lists mobile apps!
We're also proud to announce that Lists MSA support is coming to the Lists iOS app by the end of May, and Android app support is coming by the end of June. Once this update is rolled out, you will be able to sign in with your work, school, OR MSA account inside these apps, and switch between them.
Comments in Lists are coming to mobile
We're also bringing a much-requested feature to the iOS app which is the ability to view and edit comments! Keep an eye on this blog and the roadmap for updates on this.
Wrapping Up
Thanks for reading this far. We are always listening to your feedback and concerns. Don't be shy; please can use the Feedback button at the top of the page when looking at a List to let us know what you think.