Frontline workers are the first to interact with your customer and the first to manage on-the-ground operations. But due to labor shortages and fragmented processes, it becomes difficult for them to focus on the 20% of their work that really matters when 80% of their time is consumed with manual processes, gaps in information and device overload. This bogs operations and customer experiences down and plagues every industry with burnout and retention issues for their frontline workers.

At Microsoft, we are innovating around how automated solutions and next-generation AI can help frontline workers and the organizations they serve in three major ways:



Intelligent Operations




Effortless Communication




Trusted Experiences



Intelligent operations

Lighten the load by automating necessary but exhausting processes with streamlined tools and next-generation AI, freeing frontline workers to focus on what matters most.
Microsoft 365 Copilot
Enhance schedule management
Between fluctuating team schedules and staying up to date with their often large and dispersed frontline team, maintaining end-to-end visibility on operations can get time-consuming for frontline managers. Enable managers to quickly identify open items such as open shifts that need to be covered with a new Shifts plugin for Microsoft 365 Copilot. Soon Microsoft 365 Copilot can ground prompts and retrieve insights for frontline managers leveraging data from the Shifts app in addition to user and company data it has access to such as Teams chat history, SharePoint, emails, and more.
With requests to swap a shift, take time off, or unscheduled sick leave, scheduling shift-based workers can get time-consuming for managers. Enable frontline managers to quickly identify who can cover a shift and take an action, ensuring the shift is covered while saving managers' time. Frontline managers can quickly check the roster to find other workers who may be able to cover the shift based on availability and location and help them quickly craft a message about requirements for that shift to send to replacements.
Microsoft 365 Copilot can help a manager understand open shifts in a specific department for the week by leveraging the Shifts plugin for Microsoft 365 Copilot.
We have also implemented several changes to Shifts notifications to enhance the overall user experience and ensure effective communication of shift schedules:



Streamlined Notifications: Managers now have the ability to selectively notify only the relevant team members about assigned shifts and/or open shifts. This feature reduces unnecessary notifications and ensures that notifications are received by the intended employees, rather than all team members.

Learn more here

.






Enriched text in Notification and Activity feed: Notifications now provide more comprehensive details, including the shift date, time, and location on mobile and desktop.

Learn more here

.






Enhanced Deep Link Routing: Clicking on notifications now seamlessly redirects managers and employees to the relevant pages within Shifts.

Learn more here

.






New automation tools to the Shifts app using Power Automate, allowing managers to create shifts automatically when certain conditions are met.

Learn more here

.



Click on "Share with team" to share the schedule
Gain operational visibility
Between fluctuating team schedules and staying up to date with their often large and dispersed frontline team, maintaining end-to-end visibility on operations can get time-consuming for managers. Enable frontline managers to quickly identify open items to address throughout the week and ad-hoc, time-specific work items that need follow-ups by retrieving insights across files, chats, and open shifts.
Microsoft 365 Copilot can help understand open items for a frontline manager by pulling from files, chats, and open shifts.
Each time a new frontline worker joins the team, managers spend time compiling and sharing onboarding documents, policies, and resources to ensure their teams are up to speed. These documents can be difficult to locate and are updated regularly, resulting in time consumed for a manager to find the latest resources. Managers can prompt Copilot to gather relevant onboarding steps and associated documents together quickly, and then provide them to a frontline worker trainee to get started with reference links and resources populated in the response. This empowers frontline managers to onboard new employees faster, eventually creating better customer experiences and more efficient operations.
Microsoft 365 Copilot can help onboard a new frontline worker by pulling together relevant documents and resources.
Power Virtual Agents
Recently announced Generative AI in Power Virtual Agents (PVA) can enable frontline workers with the information and assistance needed to complete their daily tasks. Frontline workers can benefit from generative conversations which provide answers and takes actions via a chat bot, while frontline managers can also use generative assistance to more easily build chat bots using Copilot in Power Virtual Agents.
Generative Answers in Power Virtual Agents boosts conversational coverage by dynamically generating multi-turn answers, based off an organization's internal content like OneDrive and Sharepoint or designated external resources, in real-time in response to unanticipated questions. A maintenance worker can ask the bot how to diagnose faulty equipment or even onboarding processes. The bot will chat over your data provided, which now includes direct document support, stored in Dataverse, now available in preview. You can try a demo at aka.ms/PVAdemo or a trial at aka.ms/TryPVA.
Power Virtual Agents generative answers supporting document support through Dataverse.
For organizations looking to build their own custom Azure AI service and connect it to a chatbot, you can use the "deploy to Power Virtual Agents" experience directly from the Azure AI Studio and refine and publish refine the bot within Power Virtual Agents, now available in preview at aka.ms/aoaiservice.
Azure OpenAI Studio, now featuring the deploy to Power Virtual Agents feature at the top right.
Copilot in Power Virtual Agents provides AI assistance in building topics, designing and modifying the bot all through natural language. Copilot makes suggestions such as topics and trigger phrases so your PVA bot can be built quickly. This is Generally available in the US.
Learn more at www.powervirtualagents.microsoft.com
Tasks in Teams
In July, we introduced our newest capability in Tasks where organizations are now able to add checklist completion requirements to tasks. This feature ensures thoroughness and accountability in task execution by preventing completion until all checklist items are marked complete. Today, we are excited to share two additional features coming soon that will further improve task management and execution experiences. Organizations will soon be able to choose which members to notify when publishing or unpublishing a task list, enabling targeted communication within teams. This feature will be generally available in September. Additionally coming soon in November, the mobile experience in Tasks will soon enable easier filtering of tasks by specific buckets, providing users with a focused view of tasks in their respective areas or departments.
Zebra Task Management ™ app in Microsoft Teams
To better streamline task management and execution with work-based communication, we are excited to announce the Zebra Task Management ™ app is now available for preview. Integrating two best-in-class solutions ultimately empowers your frontline by providing expanded functionality from Zebra Task Management ™ under a familiar user experience and feature set in Teams.
Users can seamlessly access all communications and store tasks all within Teams by navigating Teams chat/channel and Task Management modules. Discover the real-time store task feed presenting all relevant projects and task information natively within Teams. Execute scheduled walks and custom site inspections through Teams to improve visibility and drive compliance. Zebra's Pinboard feed (showing your KPIs and key activities) now includes unread Outlook email and Teams chat notifications. Learn more and sign up today!

Zebra Tasks Management ™ app in Microsoft Teams on Zebra mobile device

Effortless communication

Currently, the inability to find information is a top pain point for frontline workers. There is a massive reservoir of data and insights that lies largely inaccessible and untapped today. The frontline workforce wants data in the palm of their hand to make informed decisions faster, create better customer experiences and enable more efficient operations.
Viva Connections
Announcements in Viva Connections
Effective communication is essential to the success of frontline workers, yet getting the right message to the right people can be challenge. Now, Announcements in Viva Connections lets companies target communications and create notifications for frontline users within the home experience of Teams. This new feature makes it easier to deliver timely updates like store updates, safety incidents, etc. and provides an easy way for managers to create, publish, and target these announcements out to frontline teams.
Announcements are coming to tablet and mobile experiences. The ability to view announcements on desktop is planned for future releases.



In Teams:

Users will get a Teams notification alerting them of a new announcement on their device's lock screen and in the Teams activity feed when the user has enabled them.






In Viva Connections:

Announcements will display towards the top of the Viva Connections experience where more details can be viewed.



Announcements in Viva Connections can send out push notifications that deliver to the home screen and surface in the home experience in Teams.
To enhance the home experience in Teams for organizations with many frontline employees that span multiple brands, we are excited to announce that an organization can now have multiple experiences. This new feature allows companies to provide a tailored experience that reflects each brand's look and feel and customize the dashboard for each brand's unique needs. Multiple home experiences are now available through the Viva Connections app in Teams. Learn more about the recent enhancements to home experiences in Teams.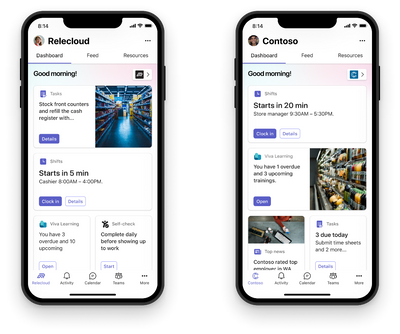 Multiple experiences in Viva Connections allows for different dashboards within a single tenant.
This new integration from ServiceNow connects workers to the tasks and information they need to accomplish their job right from Viva Connections. Employees can be informed of tasks that need their attention, including approvals, trainings, and daily duties. They can also quickly access their Employee Center, where they can get help, stay informed of news and changes, and manage their tasks and requests. Get the ServiceNow Employee card for Viva Connections from the ServiceNow store today.
A new dashboard card from ServiceNow is available for Viva Connections
Viva Engage
Targeted Campaigns
It's important for company communicators and leadership to be able to target frontline audiences and drive engagement around your organization's mission and core priorities. With new Targeted Campaigns in Viva Engage, you can now select specific audiences to reach with your communication campaigns and initiatives – perfect for scenarios like safety campaigns, policy changes, and other initiatives where you want to get the word out to employees and get people involved.

You can now promote campaigns to targeted audiences in Viva Engage.
Copilot in Viva Engage
Copilot in Microsoft Viva Engage helps leaders create compelling and inspiring posts from simple prompts or trending topics within workplace communities and storyline conversations. Copilot offers suggestions to personalize messages with options to adjust tone and length and to suggest relevant images, all to help drive authenticity and engagement. Further, leaders can utilize Copilot to analyze engagement metrics, assess sentiment, and recommend responses. Learn more about Copilot in Viva here.
Hotline phones (also known as Private Line Automatic Ringdown)
Microsoft Teams certified phone devices can now be programmed to directly dial a pre-configured phone number or contact, such as emergency services in a manufacturing plant or an organization's help desk. Users simply pick up the handset of the device, which automatically dials the designated phone number or contact for scenarios that require quick and easy connections. Phones enabled with a Teams Shared Device License can be configured directly through the device settings. Learn more about how to configure this feature here. can be configured directly through the device settings or from the Teams admin center.
UI of the home screen of a phone device programmed to dial a hotline (left) and UI of an active call to a hotline (right)
Set up Android devices as common area phones
Leverage Teams as your calling solution to connect with teammates, customers, and suppliers. This month, frontline workers will be able to make and receive calls through shared mobile Android phones from wherever their work takes them. Walkie Talkie, basic, and advanced calling features such as voicemail, call park, and call queues, will be available through the Teams Android app when mobile devices are set up as common area phones. Learn more about the Teams Shared Device license needed to enable common area phones.
Calls screen on the Teams mobile app for Android with pre-pinned speed dial contacts

When organizations invest in fast time to value technology for their frontline workers, it not only drives positive outcomes for business' bottom lines but also for frontline employees. At Microsoft, we continue to innovate on all of our products to deliver exceptional products for frontline workers. Learn more about how Microsoft Teams is leading the way.
Motorola Walkie Talkie & Windows 365
Earlier this year we announced that Microsoft and Motorola were partnering to bring the best Microsoft productivity experiences to Lenovo and Motorola business customers. We're excited to announce two new productivity experiences are being integrated into the Lenovo ThinkPhone by Motorola and will be available starting in September: push-to-talk integration with the Walkie Talkie app in Microsoft Teams and the support for Windows 365.
The push-to-talk integration with ThinkPhone's iconic Red Key will allow frontline workers to instantly communicate with the push of a button using the Walkie Talkie app in Teams.  Additionally, ThinkPhone support for Windows 365 will allow companies to deliver a Windows 365 Cloud PC experience, that gives employees secure access to their personalized Windows apps, content, and settings, to get more done, wherever they're working.
Walkie Talkie Favorite Channel
Frontline workers often engage with multiple departments and need to easily switch between channels to communicate effectively. Starting in September, users can pin up to 5 favorite channels on the walkie talkie home screen, enabling them to quickly switch between these preselected channels to listen to incoming messages or initiate push-to-talk with their coworkers.
A GIF showing Walkie Talkie app in Teams with pre-pinned favorite channels on home screen
We are excited to announce new accessories that support Walkie Talkie from Klein Electronics. Their new USB-C line of audio accessories with PTT also feature a wide range of capabilities designed to meet customers' needs, allowing customers to enjoy the latest technology in PTT convenience and performance.

Trusted experiences

Enable flexibility by providing frontline workers with a digital identity that allows them to seamlessly access and move between devices needed to do their work. With personalized device experiences, frontline workers can now spend less time logging in and out of devices and organizations can be more secure.

New Android and iOS apps that support shared device mode with Intune
Frontline workers need to simply and quickly sign in and out of shared devices. Today, Microsoft Intune enables organizations to enroll Android devices into Microsoft Entra ID, formerly Azure Active Directory, shared device mode, so they can provide sharable mobile devices to their frontline workers. With shared device mode, frontline workers have a simpler authentication experience, because they only need to sign-in and sign-out once whenever they use a shared device.
For organizations using Microsoft Intune, we are excited to announce that shared device mode support for Power BI Android app is in public preview starting September. This is in addition to the supported Android apps: Teams, Outlook, Edge, Power Apps, Viva Engage, and Managed Home Screen. For customers that need shared device support for iOS devices, Intune provides access to Teams and now Outlook, Power Apps, and Power BI in public preview starting September.
A GIF showing single sign-on and sign-out experience with shared device mode
SOTI and VMware Workspace ONE support shared device mode on Android
Organizations using SOTI and VMware Workspace ONE as their third-party unified endpoint management solutions for Android can also enroll devices in Microsoft Entra ID with shared device mode. SOTI's support for shared device mode will be generally available for Android starting September. Customers will be able to use the applicable Microsoft 365 Android apps that support shared device mode.
Give your shift workers access to personalized Cloud PCs with Windows 365 Frontline
Windows 365 Frontline makes it easy and affordable to extend the power of Cloud PCs to shift workers, allowing them to securely access their personalized Windows experience on any device. Instead of the common hassles that come with sharing physical PCs, Windows 365 Frontline provides personalized Cloud PCs freeing your frontline employees to work from anywhere, helping to boost their productivity and job satisfaction. When workers log in, they have immediate access to their personalized apps, desktops, data, and settings, so they can pick up where they left off, regardless of their device or location.
Deploy Teams at Scale with dynamic membership management in Teams Admin Center
Frontline works are organized by where they work and in what capacity. IT admins can now easily deploy teams at scale for frontline workers using dynamic membership management in the Teams Admin Center. Dynamic teams will automate member management to ensure your teams are always up to date – by creating a team for every location with a channel structure that is consistent across all locations. Now in Public Preview. Read more.